Sorry for the delay on this post, it was the final week of the class I was taking and I was a little bit (a lotta bit) on the swamped side.




Previously: Amalthea came back from the dead, twins Klara and Daryna were born (the latter showing her crafty side already, while the former is apparently the "good twin"), Izabela moved back to Legacyville, Adrian wooed the ladies, and Emilia and Vasyl are still flirting around a fair bit.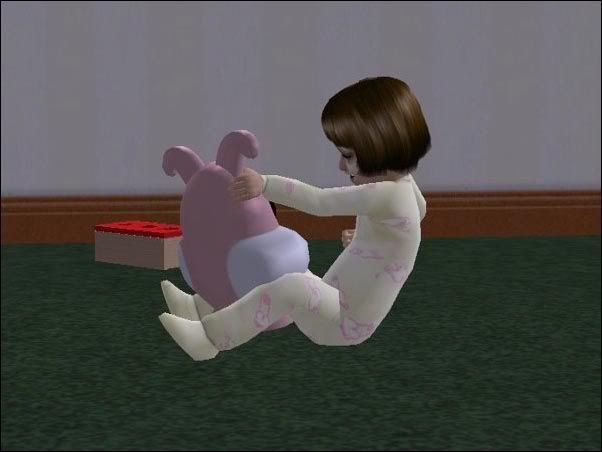 Daryna: Mr. Bunny, we have ways of making you cooperate with us.
Bunny: A is for Apple. A...Apple.



Daryna: YOU WANT TO DO THINGS THE HARD WAY, WE'LL DO THEM THE HARD WAY. (smash smash)
Mr. Bunny: B.... errzzz.... frzzzt bbzzurtuurrflrrzzzrrrrrrrrrrrrrrrrt.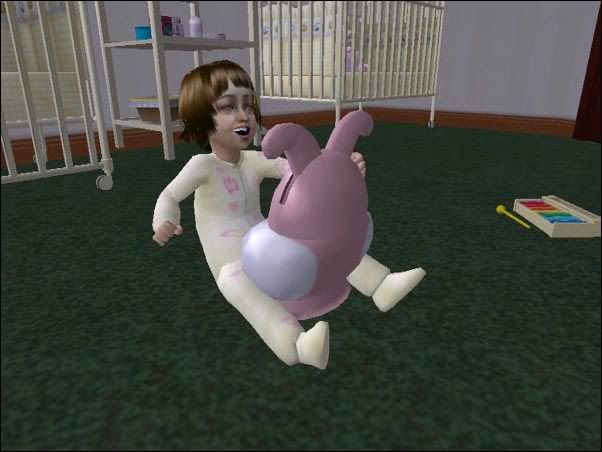 Mr. Bunny: kkkchchhttbrzzkkcht
Daryna: (evil little laugh)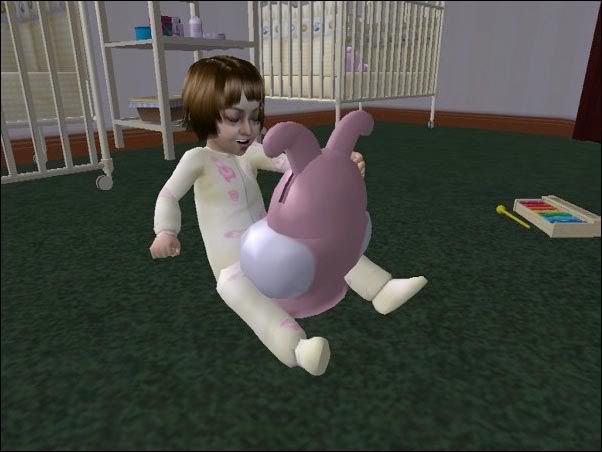 Daryna: Victory is mine.
Mr. Bunny: (shorts out)



Meanwhile, Klara sleeps peacefully.



Or snuggles Gracie. She is so the nice twin.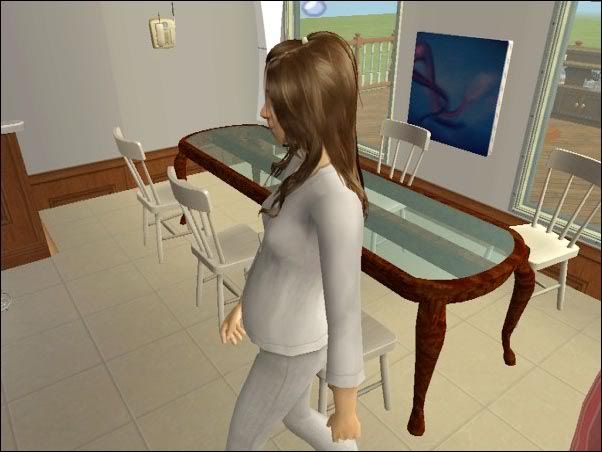 Oh yeah, Amalthea's pregnant again. We actually learned that last time, but here's visual proof.



Amalthea: Remember my fabulous wedding party, Dad?



Adrian: Oh, that was a time, wasn't it! Certainly better than MY wedding party. (grumble grumble)



Amalthea: I'm so tired of this story.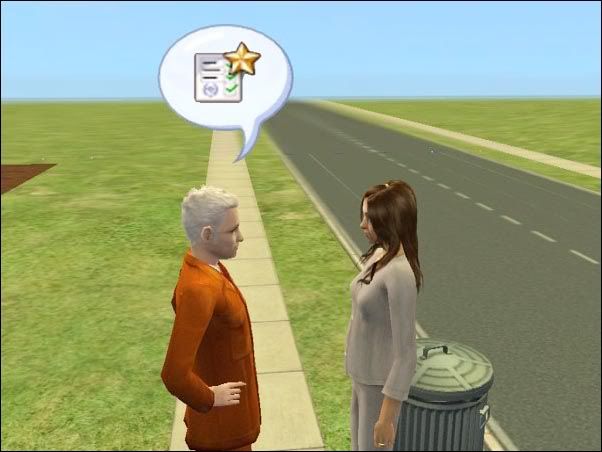 Adrian: So I hear you made Dean's List!



Amalthea: Yes, Dad. A few years ago, when I was still in college.

I think Adrian's getting senile. In Sims-land, he would probably soon be asking whose children Klara and Daryna were.



Amalthea LOVES passing out in her food!
(I have no idea what she was actually happy about but it did happen just as she passed out)


Here follows some really weird birthday pictures, because apparently I was on crack when I was taking them. That is the only explanation I can come up with for why they are so oddly framed, and why there are none of Klara until she's a kid already.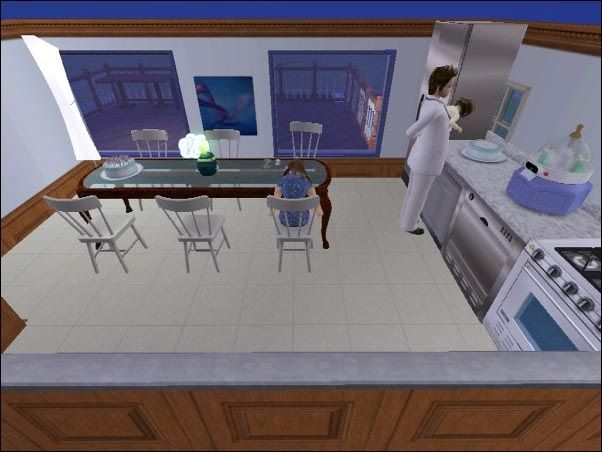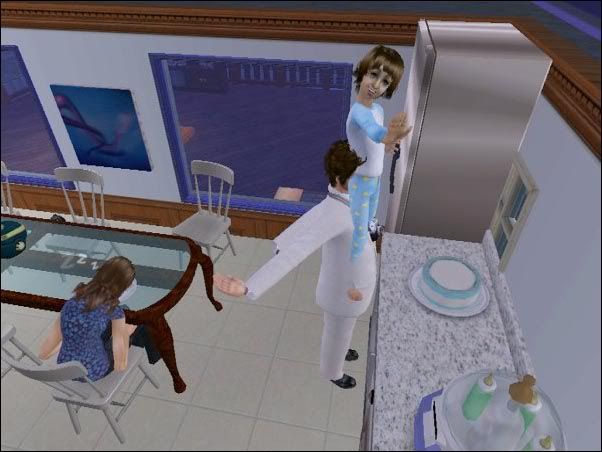 Daryna's up first! She glitches.



Then has some bladder-desperation woes.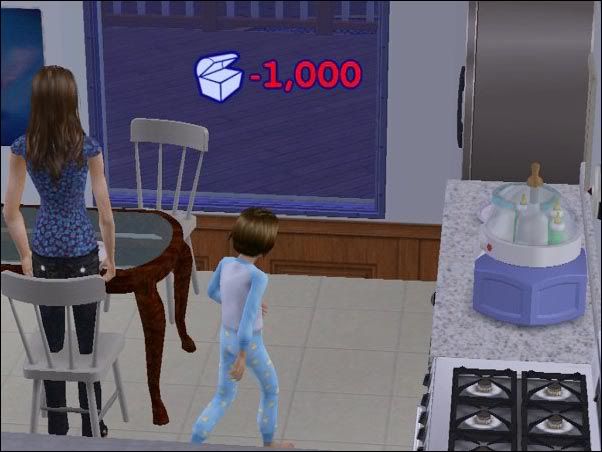 And starts her childhood out with a bang!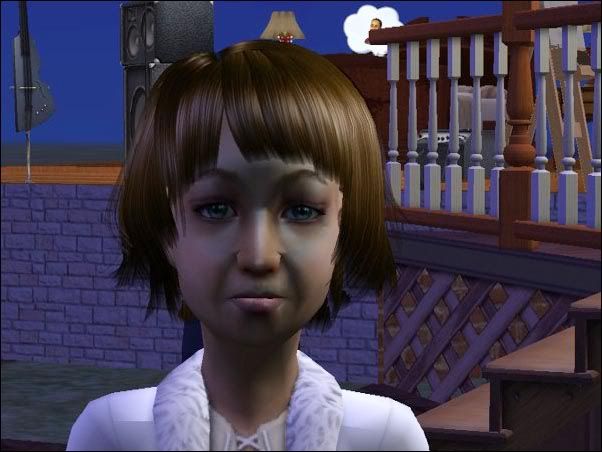 Here are some close-ups.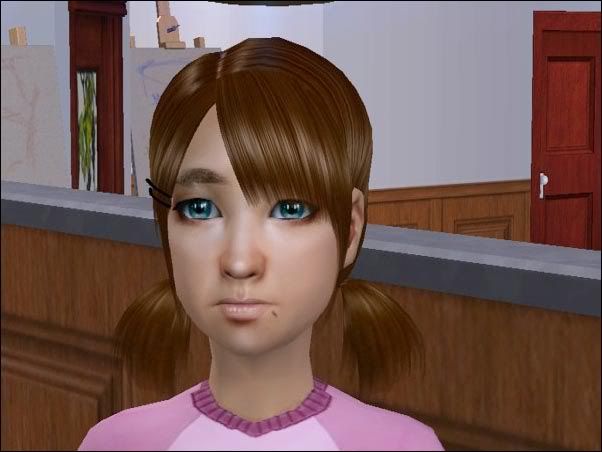 And here's Klara. I kind of love their noses.



Adrian can't handle all this excitement!



In order to keep Amalthea from randomly dying again, the energizer is used frequently during her pregnancy. Thank goodness for her permaplat status.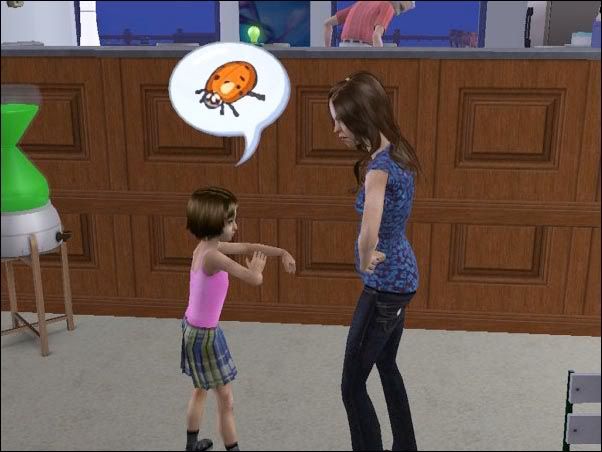 Daryna: Mommy mommy, there was a ladybug on my arm!



Amalthea: A ladybug, Daryna?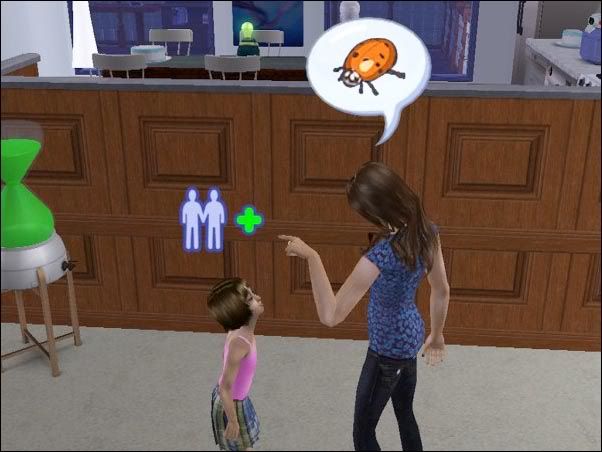 Amalthea: Don't you tell me those lies! Ladybugs don't exist!
Daryna: (Mommy's talking to me! I love her so much. +++)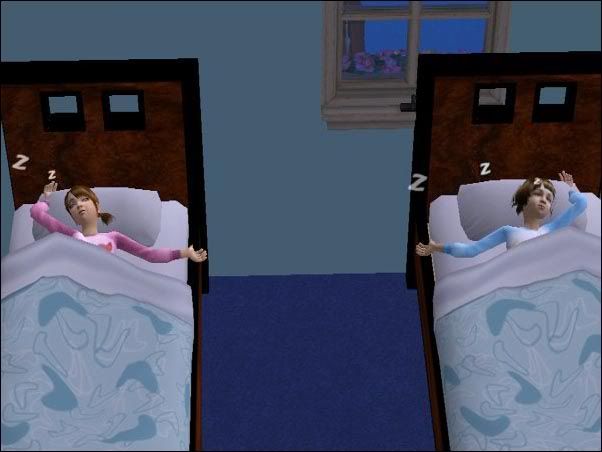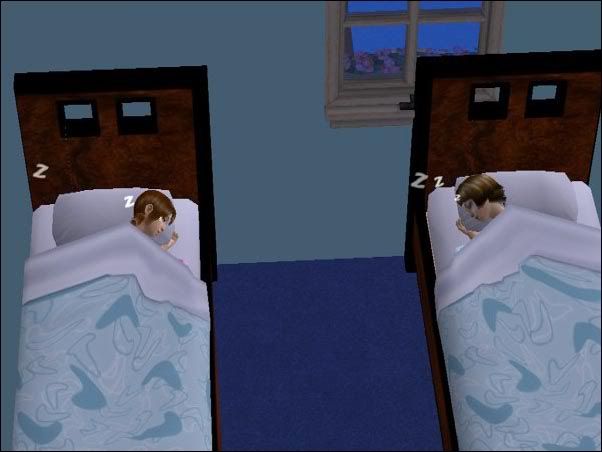 Oh, twins.



Emilia still exists, guys!



D: D: D: Oh no, Gracie!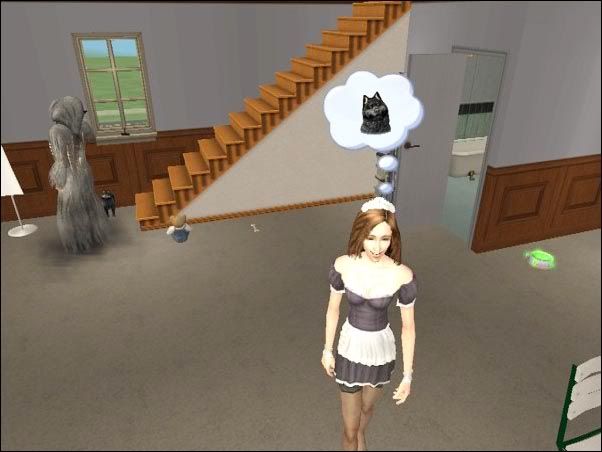 No one in the family notices, except the maid, who is apparently thrilled. Grace probably had it out for her, just like she did for the mailcarrier.

RIP Gracie D:



Later that day, Adrian became All Star or Head Coach or whatever the top of the althetic track is. (no joke, I have had multiple sims get to this level and I still don't know what it is).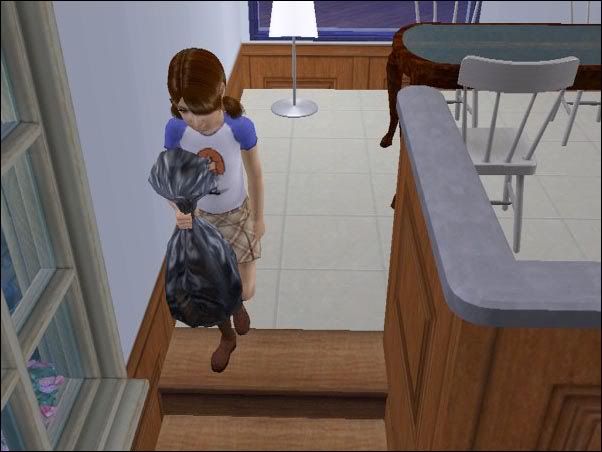 Klara takes after her aunt Izabela.



This gives me hope that the resemblance is only in cleaning habits and not in the brains division.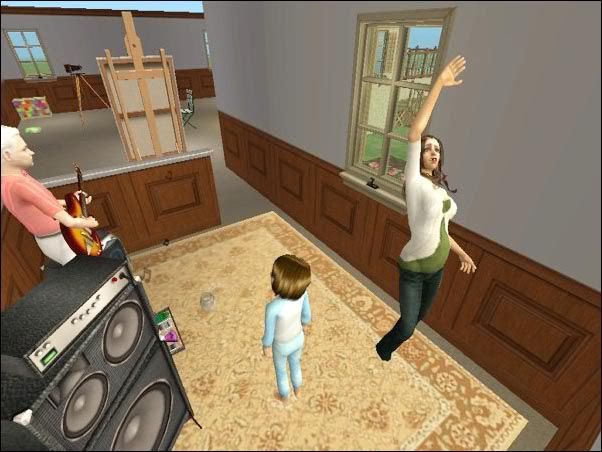 Amalthea: HEY GUYS OVER HERE.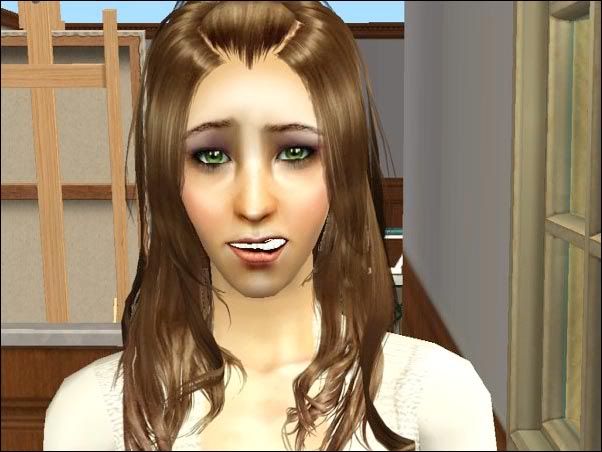 Amalthea: Ohh, this is pretty painful. Must be babytime again!



Daryna: Ohmygodbabies! Must enlist them in attempts to take over the world...



Klara: Not another one! Aren't the two of us enough for these people?!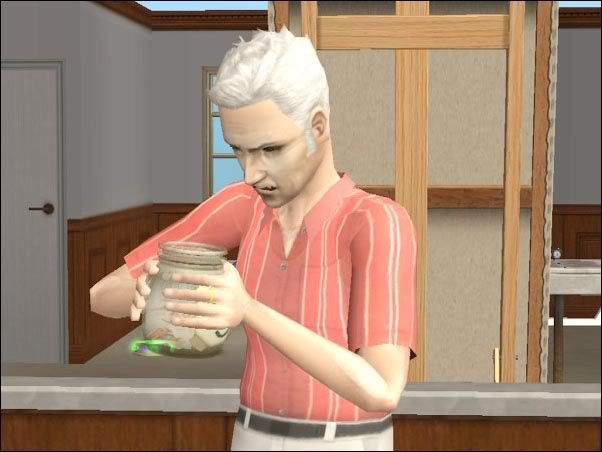 Adrian: WHY HAS NO ONE TIPPED ME



Meet Dmytro!
(it's pronounced like dim-ee-tro. It's Ukrainian, as are Klara and Daryna, since Vasyl's name is also Ukrainian)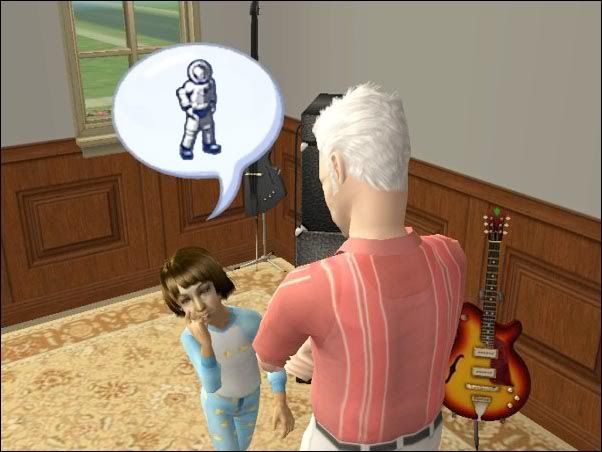 Daryna: Grandpa, when I grow up, I'm gonna be an astronaut!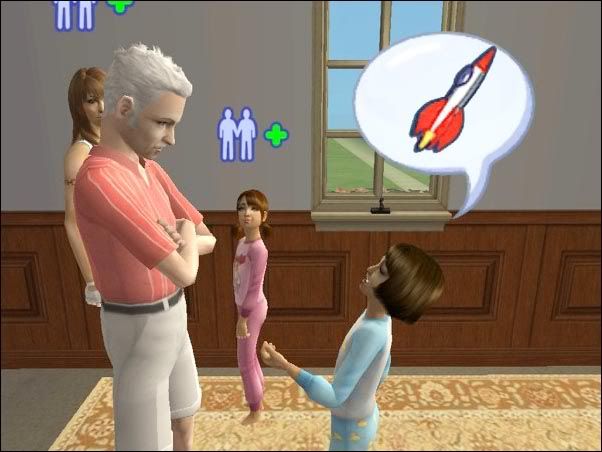 Daryna: I'll fly around on my rocketship...



Daryna: And I'll take over the whole galaxy! Every last planet!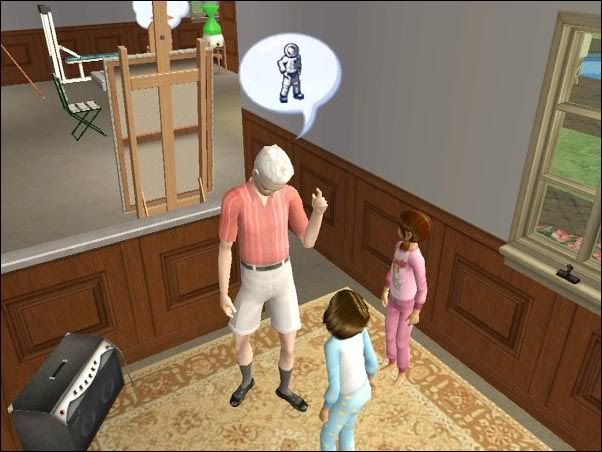 Adrian: I used to want to be an astronaut.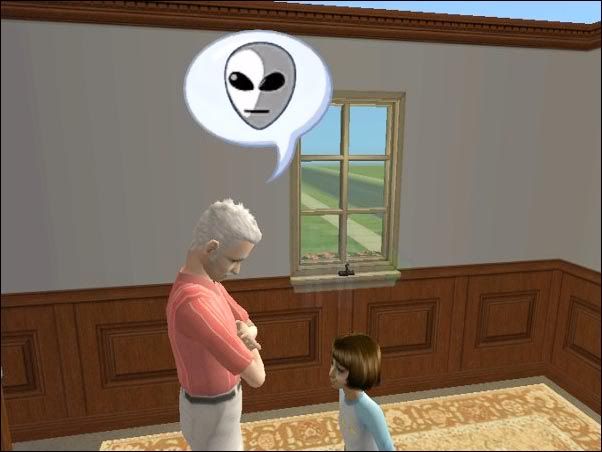 Adrian: But I just wanted to see aliens, and when I realized that there were aliens living in Sim City, I decided to devote my life to sports instead.



Daryna: (I do not think Grandpa understands the seriousness of my plans.)



Regardless of their respective alignments with good and evil, the twins are quite close. Thank goodness.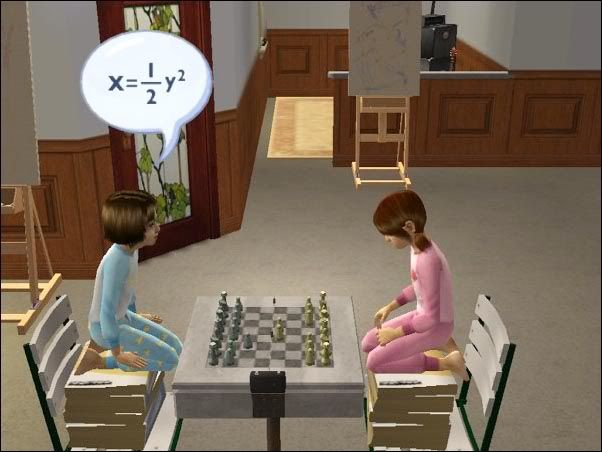 They also really like to talk about math.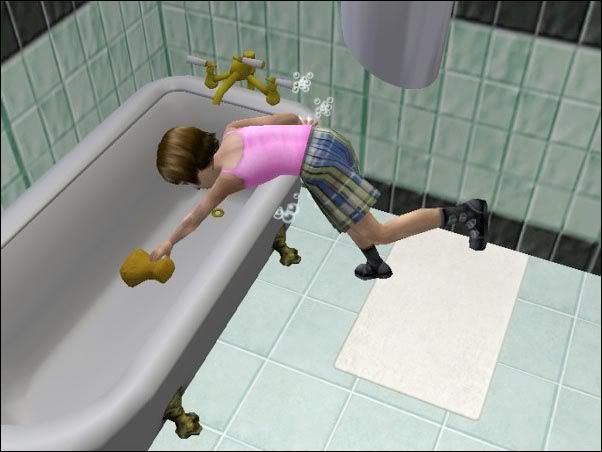 The neat-freak gene carries on!



And Dmytro is generally forgotten! And about to be severely scarred...



Death: ADRIAN. YOUR TIME HAS COME.



Adrian: What?! Now? No!
Death: BUT ADRIAN. THE UNDERWORLD HAS HULA GIRLS, SUCH AS THESE TWO LOVELY LADIES BEHIND YOU.
Adrian: We-elll....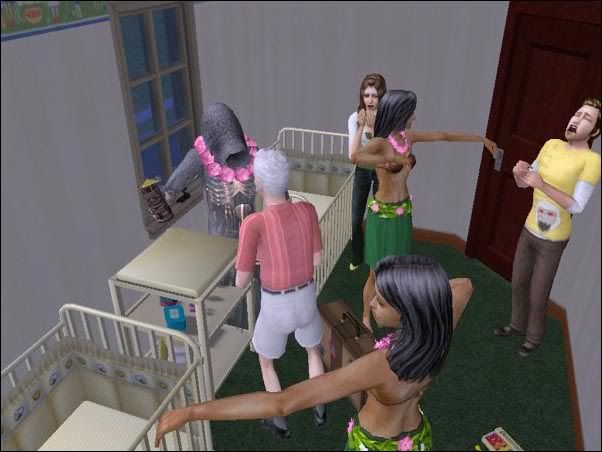 Death: ...HOW ABOUT AN ICE COLD TIKI DRINK? AN ETERNITY OF TIKI DRINKS AND HULA GIRLS, ADRIAN. CONSIDER WHAT I AM OFFERING YOU.
Adrian: You've got yourself a deal! Let's vamoose! So long, earth!
Family: (sobs) How could he leeeeave uuuuusss!

After that moment, no one cares too much about Adrian dying, so either they were tired of him peeing on everything and talking about the long-since-past, or they knew he was in a better place.



Immediately afterward, Amalthea wandered off to take a shower...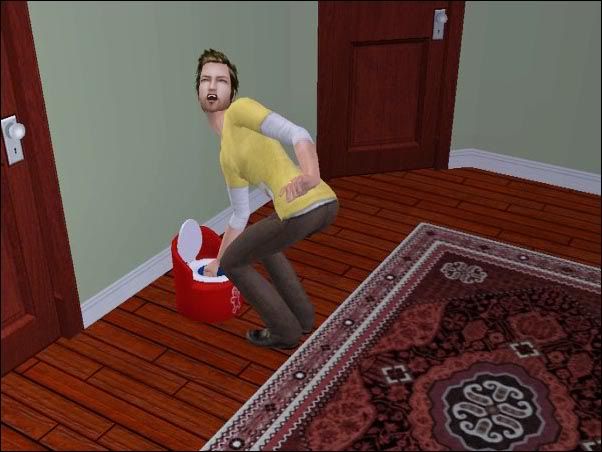 And Vasyl grossed himself out by cleaning the potty chairs.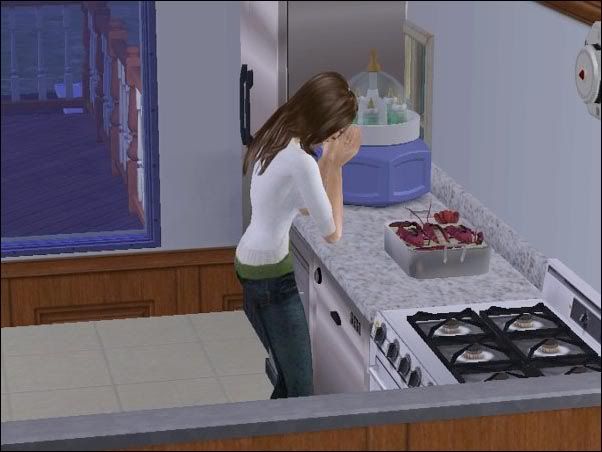 Later, Amalthea got really sad while making dinner, but that was about it.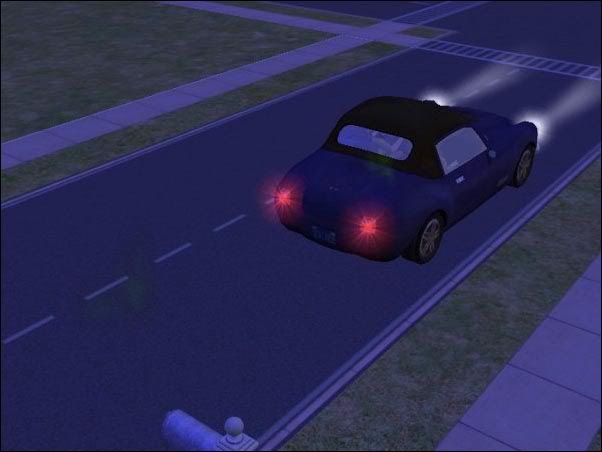 This is Emilia getting home from work. She had not showered in quite some time, which is the point of this picture, because you can see little stink clouds following the car. lulz.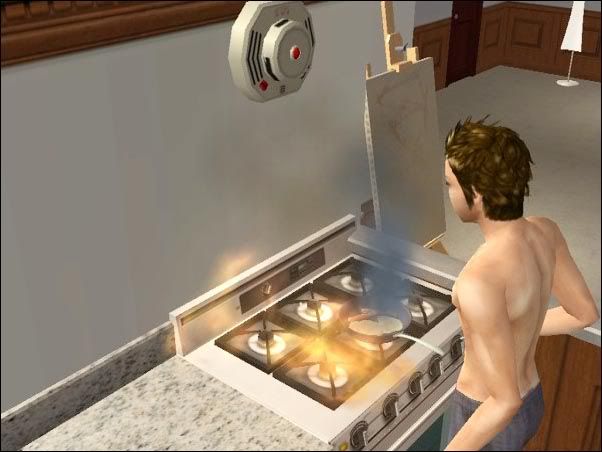 I can't remember why I took a picture of Vasyl burning stuff. But he burned some breakfast. Dang, Vasyl.



Amalthea: I AM SO HUNGRY BUT MY HUSBAND IS IN THE WAY SO I CAN'T TIP HIM OR GET TO THE DOOR HE IS SO HOT AAAARHGHHGHRAGE




Apparently Dmytro really doesn't like Klara. I can't figure out why. I don't think they've ever had any interaction.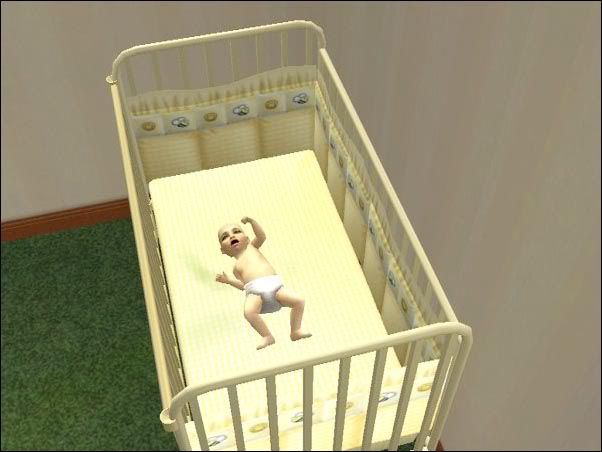 Dmytro is crying and smelly! Where are his parents?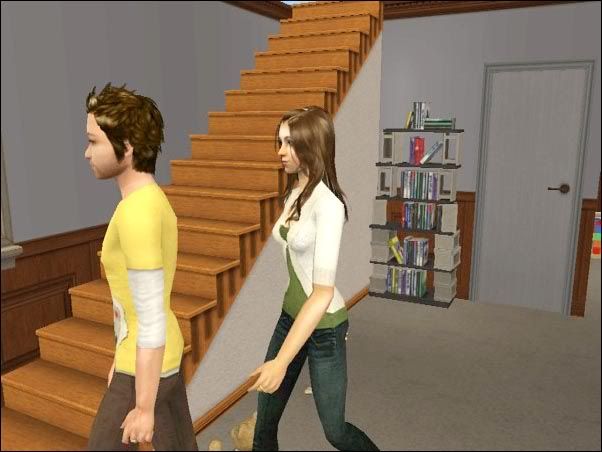 Both headed upstairs! Could it be? Attentive parents in the Sims?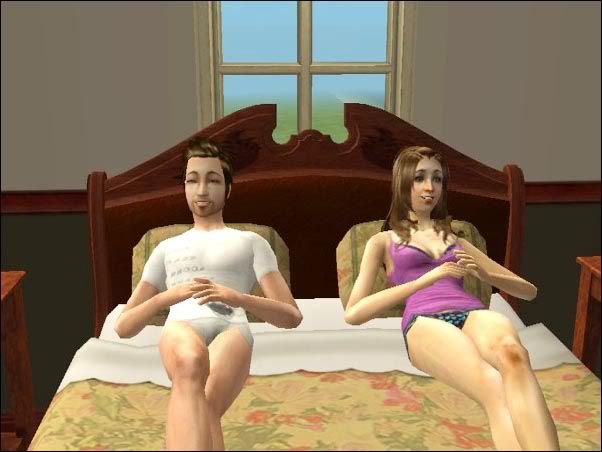 Apparently not.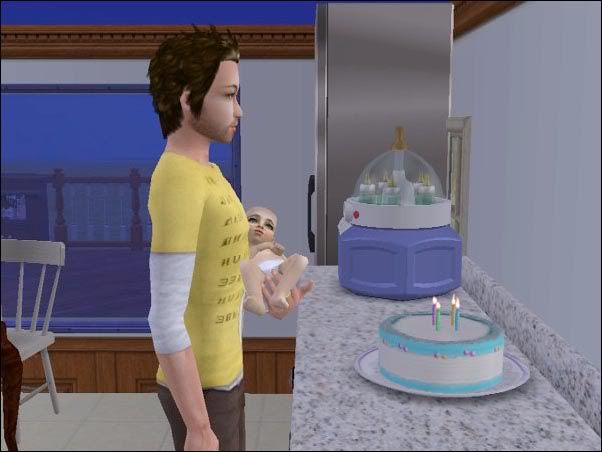 Finally it's time for Dmytro to grow into a toddler.



No glitching!
Vasyl: He has his mother's nose!



You can't see it in this picture, but he does have Amalthea's nose. And a bit of a fivehead. Yowza.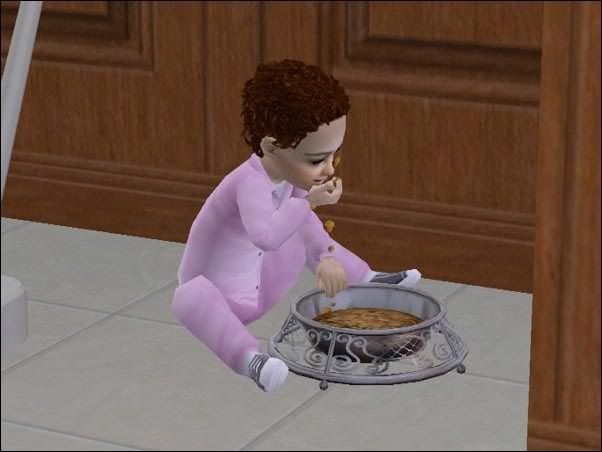 Dmytro: This looks interesting...I shall put it in my mouth!



Dmytro: THIS IS DELICIOUS.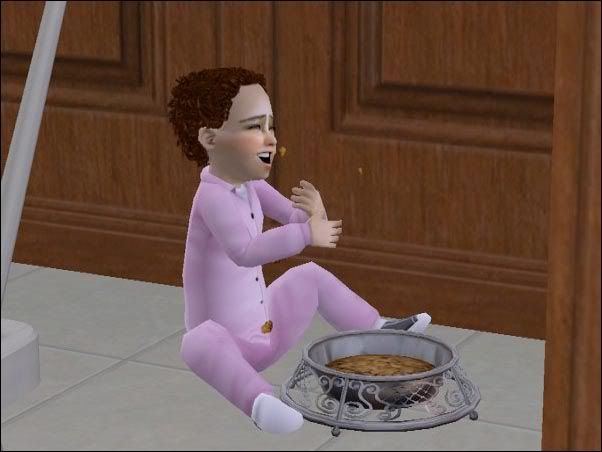 Dmytro: SUCH A DELECTABLE TREAT.



Dmytro: WITH GOD AS MY WITNESS, I WILL NEVER DRINK BOTTLES AGAIN.




See you next week!